Don't Lose Lost Island.
ATTENTION!! PROPOSED INDUSTRIAL WIND DEVELOPMENT IN OUR NEIGHBORHOOD!!
Working to protect Lost Island, Walnut, Great Oak, Silver, and Highland Townships, as well as surrounding areas from industrial wind.
— Vestas Wind wants to build 40-50 giant wind turbines on and around our Lost Island Township property.
— These towers will be 100 feet TALLER than the 170 towers between Graettinger and Emmetsburg.
— 600 ft tall towers will cast shadows over 1/4 mile and beam blinking red strobe lights for 20 miles.
— These noisy turbines will destroy Dewey's Pasture — killing song birds, bald eagles, insect-eating bats.
— Hunters will lose thousands of acres of barrier free, pristine hunting lands.
— Most of the electricity will not light and heat Palo Alto County farms. Our electric bills will increase.
— These additional turbines will decrease home values and quality of life.
Land. Life. Liberty. Legacy.
How much are these worth to you? Can we afford to give them up? Are they for sale—at any price? Is this the change…we want???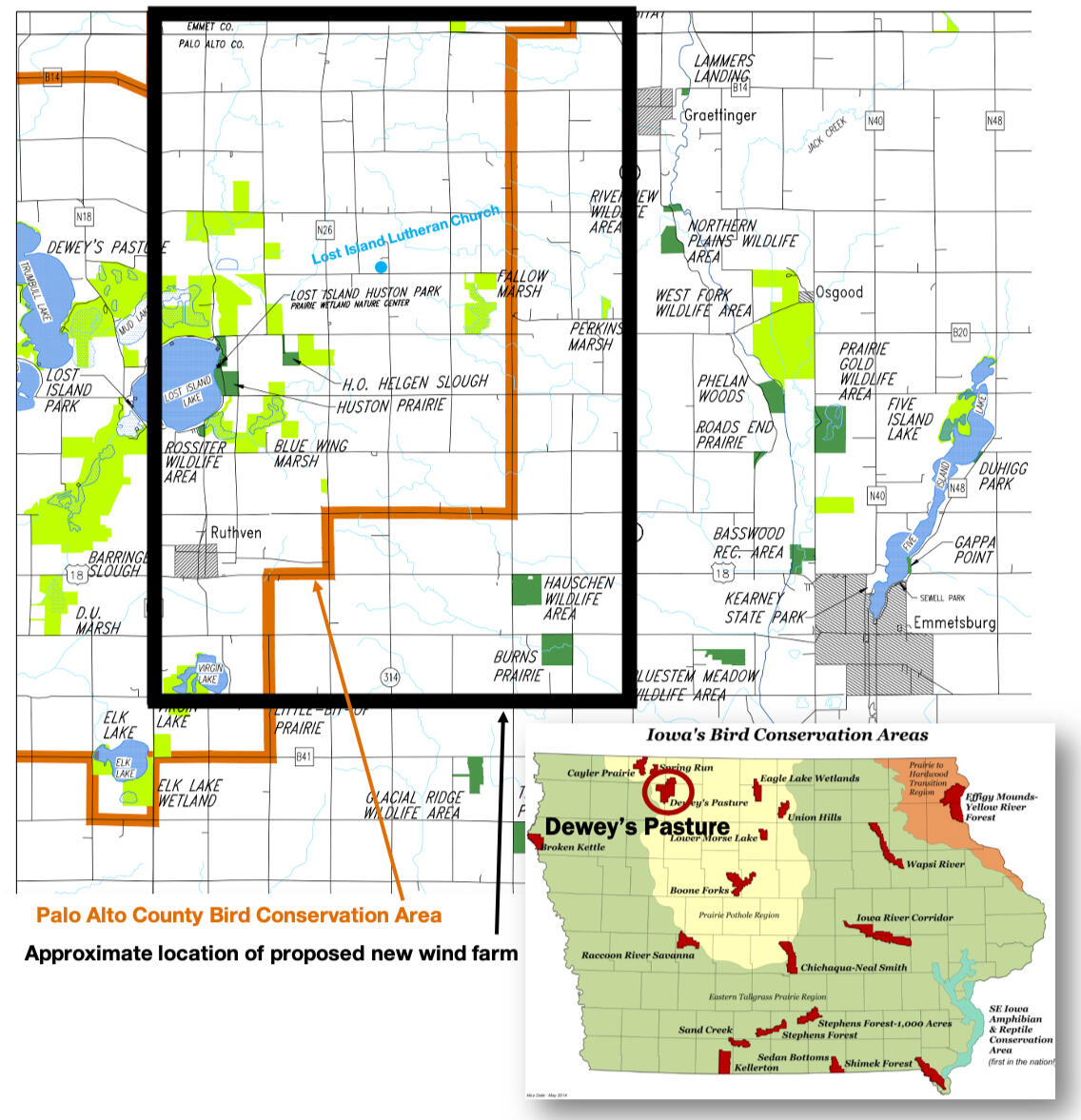 What's going on?
MASSIVE NEW WIND FARM EXPANSION
Vestas Wind and their subsidiary Steelhead Americas are quietly luring Lost Island farm families (some of whom live in Dewey's Pasture BCA) to sign over control of their land and legacy in the creation of a new 40-50 turbine industrial wind operation.Rich, foreign-owned companies are trying to grab part of the farmer's way of life. Again. Will our county leadership let these corporate outsiders pay off a few…but take what they want from the rest of us? Our fertile farmland? Beautiful sunsets and starry night skies? Pristine Lost Island Lake and Lost Island Nature Center? Thousands of acres of hunting preserves? Our 79,000 acre "Dewey's Pasture" Bird Conservation Area (BCA)? Did you know Palo Alto County is home to one of only 24 Bird Conservation Areas in Iowa? Dewey's Pasture BCA consists of farmland, wetlands and marshes, Lost Island Lake, Lost Island Nature Center and thousands of acres of prime hunting ground. Check the map (above)—your farm or neighbor's farm may be located in "Dewey's Pasture." Wonder why you've seen bald eagles or swarms of migrating birds on your farm? Now you know!Turbines would be a "death trap" for wildlife our County has spent hundreds of thousands of dollars protecting—through countless DNR initiatives.HOW MASSIVE? Some Vestas industrial wind towers are about the height of the IDS Tower (792 ft), the really tall building in Minneapolis. Taller than the Gateway Arch (630 ft) in St. Louis. Taller than the Space Needle (605 ft) in Seattle. Taller than the tallest building in Iowa—801 Grand Building in Des Moines at 630 ft.
HOW LOUD? Wind turbines make about 100 decibels of sound. Like a chainsaw that never stops.
HOW BRIGHT? Their flashing red strobe lights shine up to 100,000 candle power, or 1.2 million lumens—lighting up farm houses 15 miles away.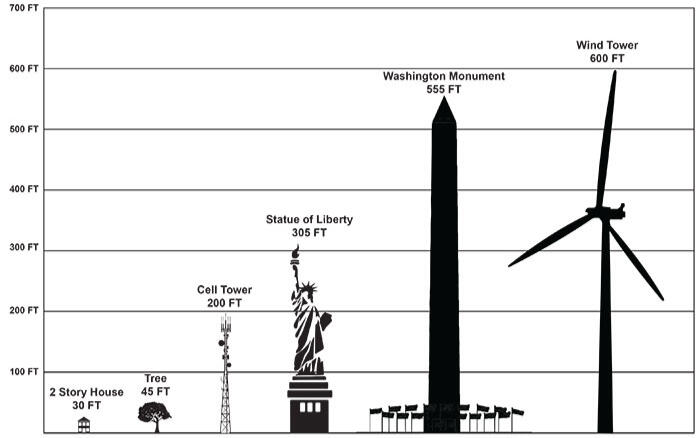 Why should we care?
FARMERS
— Will you enjoy driving a tractor near 200-foot blades spinning at 180 mph? Will your family?
— Will you sleep well with flashing red beams of light streaming into your bedroom?
— What about the 1/4+ mile shadows cast by 600 ft towers? Endless shadow flicker bother you?
— How will you drown out the chainsaw racket when the family's trying to sleep or grilling on the deck?
— How will you tell your grandkids what the farm place looked like…before tons of concrete and steel?
— How will you justify to future generations surrendering control of your farm asset…for inflated currency?
— How will you feel finding a dead bald eagle and its mate next to a Vestas turbine on your land?
— Will you miss once friendly relations with neighbors who build towers next to your farm?
— Are you concerned your tile system may never drain right again?
— Did you know farmers who've signed contracts are silenced from speaking to their neighbors about bad experiences with their turbines? It's too late for them.HUNTERS
— Do you want to hunt under an "industrial wind farm jungle skyline?"
— Do you assume Vestas Wind will even give you permission to hunt around THEIR wind jungle?
— Want to see thousands of decayed birds and bats each year?
— How much wild game is lost by churning up thousands of acres of woods and marshland?NATURE LOVERS
— Will you miss the way Lost Island Lake, the Lost Island Nature Center and Huston Park looked BEFORE the MASSIVE industrial wind jungle expansion changed the pristine skyline?
— Won't you miss "Dewey's Pasture"—our unspoiled 79,000 acre Registered Natural Landmark?
— Won't you miss the sound of honking, migrating geese overhead, headed for "Dewey's Pasture?"
— Can we pay enough taxes for DNR to build a new sanctuary for Dewey's 236 bird species?
— Do you realize these spinning blades interrupt flyways of migratory birds traversing our skies?
— Are you aware of the thousands of birds and bats killed by turbines?
PALO ALTO COUNTY RESIDENTS
Why not check it out? Drive around beautiful Lost Island Lake. Hike our incredible Nature Center. Watch for fishing bald eagles, nesting native species, flocking migratory birds and swirls of monarch butterflies. Hunt in our world-class hunting preserves for pheasant, quail, duck or deer. Take in our beautiful blue skyline.Then—drive through the countryside between Graettinger and Emmetsburg and try to remember what this Iowa farmland looked like just a few short years ago—before MidAmerican desecrated the countryside with 495 foot tall towers—turning a once beautiful landscape into an ugly, industrial jungle of giant, spinning blades and blinking red strobe lights. Think movies. Imagine Mad Max trucking through the 170 existing towers with flashing red lights and spinning blades. Ask yourself, "Do I want to live and farm on a disaster movie set? "Do I want to trade my precious Iowa dirt that is appreciating in value every day, to a foreign corporation that "promises" to pay me…in greenbacks…that continue to depreciate every day?"
Before you take the money and get the tower, ask the wind company:
— How much land am I giving up? It's not just the tower site. What are you taking from my Family?
— How much FREEDOM to manage MY PROPERTY am I SURRENDERING once I sign? For decades...
— Are you sure these blades won't break off like those that fell last year? 1, 2
— Who will clean up all the dead birds? Who goes to jail for dead eagles on my land?
— How will I get paid when this generation of wind tech inevitably becomes obsolete? And it will.
— Who guarantees I'll even get paid if/when Vestas sells their turbines to a foreign company? Says who?
— Why is MidAmerican litigating 400 complaints throughout Iowa if they have farmer interest at heart?
— Who removes this dangerous graveyard of rusting, skeletal, obsolete wind tower debris? Says who?
...and ask yourself:
— How can I face my neighbors, especially now that they have to deal with the flashing lights, shadows, and noise from my turbine?
— Will I be known in the family as the person who sold/destroyed the family farm legacy?
Join the rest of us...
"Never doubt that a small group of thoughtful committed individuals can change the world. In fact, it's the only thing that ever has."
--Margaret MeadSo, if you DO NOT WANT to see our beautiful community destroyed by industrial wind outsiders, here is what you can do:Checklist:
— Join the mailing list (below).
— Follow us on Facebook and share with your friends.
— Inform your neighbors and let them know you said NO to industrial wind.
— Reach out to the Board of Supervisors and demand transparency.
— Request FOIA information.
— Contact DNR. Tell them you expect DNR to protect our wildlife - not sell out to industrial wind.
— Reach out to the IUB and demand they regulate industrial wind development and expansion for docket RPU-2022-0001.
— Contact Vestas and tell them to LEAVE and LEAVE US ALONE.
— Put a sign in your front yard. They are available at our town hall meetings. LAST CHANCE TO MAKE YOUR VOICE HEARD: 22 June 2022, 6:30PM at the Emmetsburg VFW
— Sign our petition against industrial wind in Lost Island and surrounding townships.
Industrial wind...pays off a few...steals from the rest.